What you need to know
Scrapbooking is a craft that allows the crafter to use design skills and imagination to create an art piece worthy of being displayed for all to see. If new to the whole concept of scrapbooking it can be somewhat overwhelming to know where to start. The following basic techniques will give you a sound beginning to your scrapbooking journey.
Theme – First you must decide what the theme of your scrapbook is i.e. the reason for making it. Is it to keep all your travel photos in one place? Is it an ongoing project that records memories throughout your years? Is it a gift for someone and is going to be filled with things that they treasure? Once you have decided upon the theme or purpose you can then start to gather together the items you want to include. Photographs are one of the major components of a scrapbook and typically take up the most space. If you have a lot of photographs you will want to select just the best ones to be included. Decide how many you want to feature as this will largely dictate how many pages will be included in the finished scrapbook.
Paper/Pages – The quality and weight of the scrapbook pages will largely dictate how long it will remain crisp and beautiful, particularly if it is likely to be thumbed through often. When deciding what paper to use consider how long you want the scrapbook to last. Is it something you wish to pass down to your children? In all likelihood, once you have spent many hours and some expense on your scrapbook, you will want it to last for a very long time, so choosing a top quality paper of significant weight to be strong enough to bear the weight of the photographs and embellishments is critical. While many scrapbooks can have additional pages added to them you will want a fairly accurate idea of how many pages to start with. It is important that if this scrapbook is going to have more added to it at a later date that you purchase extra paper at the time of purchasing your starting stock so that if that paper becomes unavailable in the future you will be set. You can purchase ready-made kits that include a number of pages, and while these kits are extremely useful they also have the possible limitation that they are only available in kits and that these kits will no longer be made some time in the near future. Using blank pages of your choosing and purchasing additional stock will ensure you have enough to not only complete your project but have some left over for adding more treasures at a later date.
Beginning to Scrapbook – Now that you have your paper, have selected the photographs and mementos to be included and have decided on the theme you can begin putting it all together. You will need some basic supplies such as acid-free adhesive and a good pair of sharp scissors, and a flat, clean surface to work on.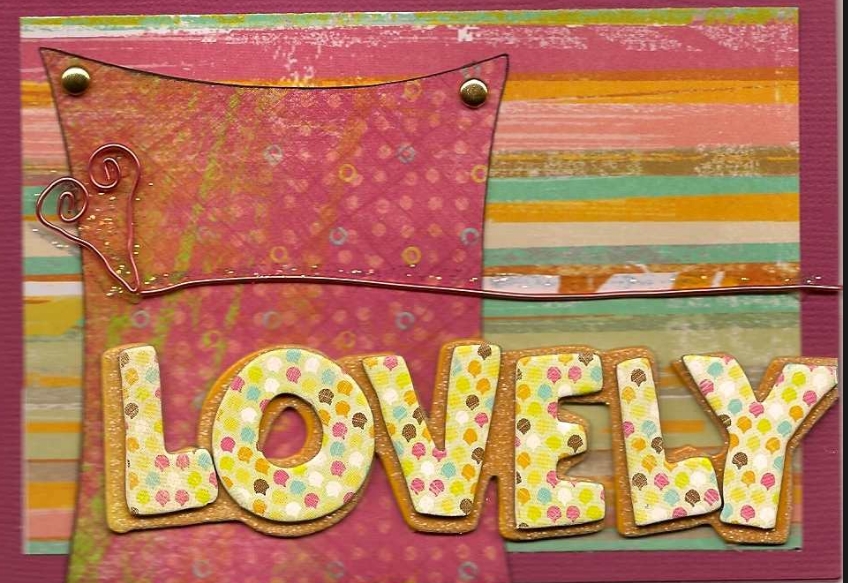 basic embellishments and techniques
The following are some basic embellishments and techniques you can use to turn blank pages into beautiful art pieces:
Cardstock – This is one of the most essential materials for scrapbooking. There is almost no limit to what you can do with it and it is available in a wide variety of weights, colors and textures.
Paper Tearing – This is a technique that gives your scrapbook a vintage, kitschy appearance and is worthwhile learning. While it seems counterproductive to actually tear paper it can produce some interesting effects when done well.
Borders – Creating borders is one of the classic ways to brighten up a photograph or even an entire page. There are a wide variety of materials that can be used to create borders. Not limited to photographs either. If you want something to "pop" on your page a border may be the solution.
Buttons, Flowers and Ribbons/Lace – For really pretty added effects you can sew on flat buttons, press flowers or glue on ribbons and lace. These embellishments add a very feminine look to a scrapbook and can be used in a wide variety of ways.
Brads – These can be used not only for decorative effect on pages but also to affix items. Brads come in a variety of colors with gold and silver being very popular. Brads are very commonly used in scrapbooking and are now being produced with cute themes to them such as Halloween, Christmas etc.
Rubber Stamps and Stickers – Using stamps and stickers is an easy way to brighten up an otherwise fairly plain page. There are a wide range of both rubber stamps and self-adhesive stickers available.
Planning Your Scrapbook Layout – With your individual pages laid out you can begin to plan the layout. Begin with the items that are going to be the main component – in most cases it is photographs. Decide if you want one, two or more photographs on the page. Do your photographs have a chronological sequence to them? Then place them in the correct order. Once your photographs are arranged where and how you want choose the other mementos that may go with certain photos and place them on the relevant pages. Now you have the basis of your scrapbook layout.
First Steps to Completing – If you are pleased with your layout and are certain the photographs are where you want them to be placed you can affix them permanently to the pages. Once that has been done add the other mementos. Be sure to keep your pages in order as you work on each one. You now have the basis of your scrapbook and can move onto embellishing it to give it an artistic and fun finish. This is where the really fun part starts. Lay each page out (it may be best to complete one page at a time) and place ribbons, buttons, lace, brads, flowers and other decorative items where you think you want them to go (without permanently affixing them). This will give you a reasonable indication of what the finished page will look like. Move things around until you are happy with the final design of your page. Once decided upon those items can be affixed permanently. Keep working through the pages until they are all completed.
Cover – The cover is almost as important as the pages for two reasons, the first being that it should reflect the theme of the contents as well as be attractive. The second reason that choosing the cover carefully is important is that it needs to protect the pages inside. Therefore your selection of cover needs to take careful consideration.
You can purchase many ready-made covers that you place your pages into, or you can choose to create your own. In fact you can do both. You can purchase a cover that is plain and decide to add your own embellishments to it. Some scrapbookers like to place a pretty fabric over the hard cover, sometimes adding a little padding behind it to give it a soft, spongy feel. Alternatively you can cover the hard cover with a movie poster, or decoupage a cover with favorite pictures taken from magazines. Whatever you decide to use as a cover for your scrapbook it needs to be strong and durable so bear that in mind.